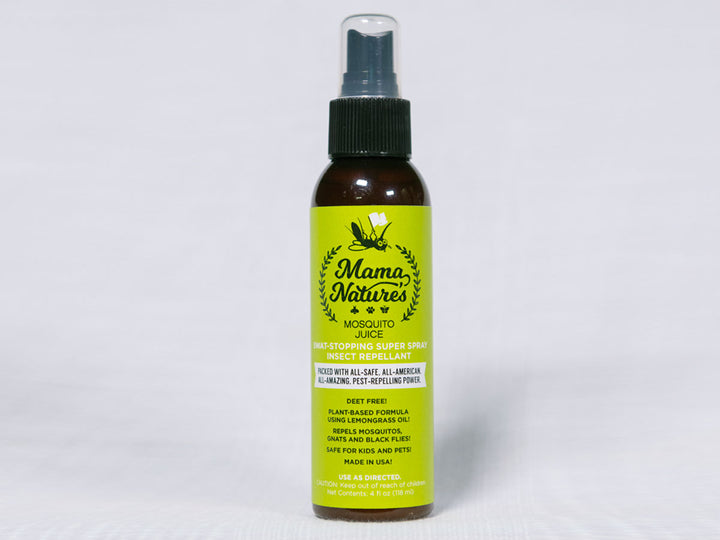 Two 4 oz. bottle. Packed with all-safe, all-American, all-amazing, pest-repelling power.
We've made it easy to protect your yard from annoying insects. Now, with Mama Nature's Swat-Stopping Super Spray Insect Repellant, you can stop the swat wherever your outdoor activities take you.
Our exclusive plant-based spray safely repels nasty insects like mosquitos, gnats and black flies. All without nasty chemicals like DEET. In fact, it contains the same amount of chemicals and harmful pesticides as a ray of sunshine. (Which would be zero, if you're counting.)
Our lemongrass-based formula is tough enough to repel bloodsucking pests. But it's also gentle enough to be used on kids and around pets. Plus, it won't harm pollinators or aquatic life.
With our 4 oz. swat-stopping super spray, it's like you'll be wearing a sign that reads, "Keep Off, Mosquitos" anywhere you go. Except mosquitos can't read, which is another item on their long list of unappealing qualities.
What else can we repel? In-laws? Tax season? Political ads? We'll have to wait and see what else the lab comes up with!
If for any reason you aren't seeing the results you'd hoped for with our products, or have an issue with your order, we want to make it right. If we can't, we'll provide a refund to you with no hassle. Read our full guarantee.
Our magical Mosquito Juice is made out of things you can find at a health food store:
Garlic
Corn oil
Cedar oil
This garlic-based concentrate repels and eliminates biting pests like mosquitoes and ticks. The smell quickly fades, leaving you with a yard where you and your family can relax—swat-free.
Mama Nature's Mosquito Juice is safe for:
Kids
Pets
Pollinators
Aquatic life
Your kids and pets can play in the yard right after you spray. You don't have to keep off your lawn all day like when you use chemicals.
Mama Nature's Swat-Stopping Super Spray Insect Repellant—Two 4-ounce bottles