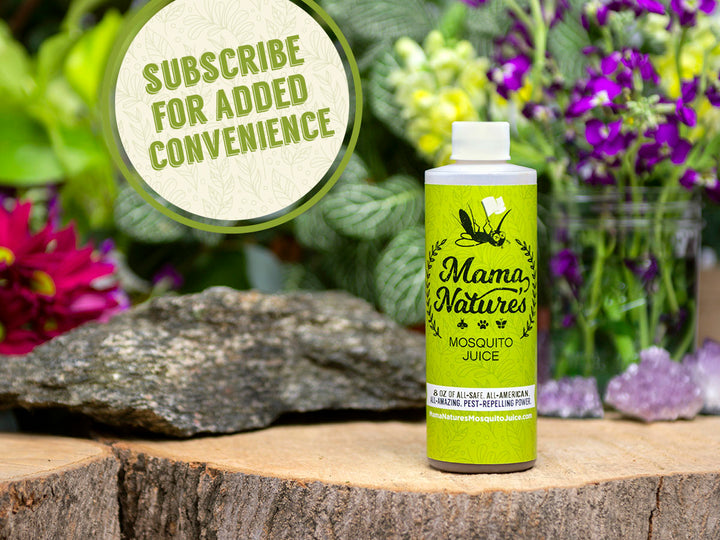 With our subscription option, we'll ship one or two 8-ounce bottles to you every 15 days* for added convenience. Just select your preferred quantity based on the size of your yard. Calculate your cover here.

Subscription runs until September 15 when mosquito season typically subsides. Don't forget to sign-up for a new subscription every year to defend your yard!
Each 8-ounce bottle will cover yards 6,000–8,000 feet. An additional bottle can be mixed to cover larger yards.
Packed with all-safe, all-American, all-amazing, pest-repelling power.
Get your yard back with Mama Nature's Mosquito Juice. We help you stop the swat—naturally!
Our garlic-based mixture wipes out and drives away mosquitoes and ticks. It's safe for kids and pets, but robust enough to repel biting insects in your yard after only one use.
Spray on grass, mulch, tree canopies and shrubs
Apply every 17-21 days for maximum results
Mama Nature's Mosquito Juice can only ship to U.S. addresses at this time.
*If there's a long period of wet weather, you may need to reapply Mama Nature's Mosquito Juice sooner.

In the event you would like to cancel your subscription, please review our Cancellation Policy.

If for any reason you aren't seeing the results you'd hoped for with our products, or have an issue with your order, we want to make it right. If we can't, we'll provide a refund to you with no hassle. Read our full guarantee.
Our magical Mosquito Juice is made out of things you can find at a health food store:
Garlic
Corn oil
Cedar oil
This garlic-based concentrate repels and eliminates biting pests like mosquitoes and ticks. The smell quickly fades, leaving you with a yard where you and your family can relax—swat-free.
Mama Nature's Mosquito Juice is safe for:
Kids
Pets
Pollinators
Aquatic life
Your kids and pets can play in the yard right after you spray. You don't have to keep off your lawn all day like when you use chemicals.
Yes, it definitely works. I have been spraying the word
It works!
I was amazed at how quickly it worked and it doesn't have a super strong smell. I will continue to use it!
Mama Nature works great!
Been using the product for three years and product is easy to apply and eliminates mosquitoes. We can play games in the backyard and enjoy a fire without needing Bug Spray.
This stuff is AMAZING!
I found Mama Nature's Mosquito Juice online last summer. We have a log cabin on the ocean in Down East Maine where the mosquitoes are vicious! We used this around the cabin, the firepit and our chairs on our little point and never again had to use bug lanterns (the ones with candles) to sit outside! It is so nice to be able to site around the firepit once the sun goes down and not get eaten alive! This works so well, we've order a new kit for our home in Massachusetts. Seems pricey but have you seen the cost of the lantern refills? And this works so much better! I highly recommend!