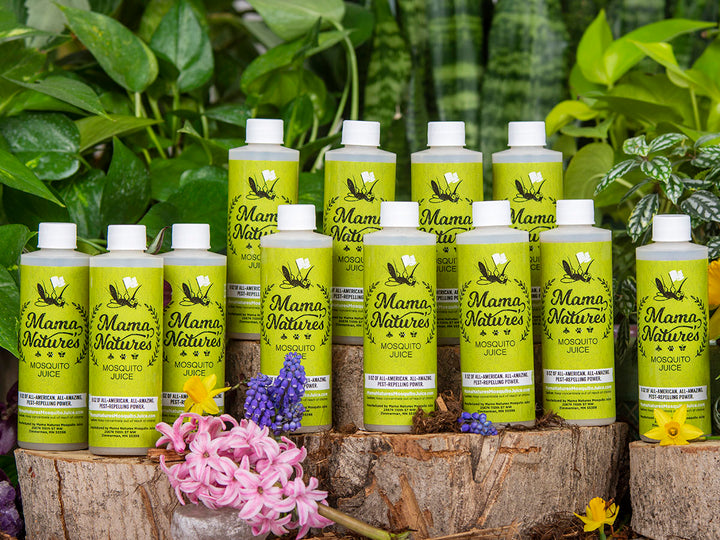 Twelve 8-ounce bottles for customers who already have a sprayer and LOVE the results. Each 8-ounce bottle will cover yards 6,000–8,000 feet. 
This 12 pack is for returning customers who have larger lawns and/or want to share their terrific results of a Bit Free Summer!   Maybe give a couple to your neighbor since he has all your mosquitos in his yard.
Packed with all-safe, all-American, all-amazing, pest-repelling power.
Start enjoying your yard again with Mama Nature's Mosquito Juice. We help you stop the swat—naturally!
Our garlic-based spray eliminates and drives away mosquitoes, ticks, fleas and gnats. It's not harmful to kids and pets, but it's strong enough to repel the majority of annoying insects in your yard after only one use.
Our package includes twelve 8-ounce bottles of our almost-magical concentrate. You'll be well-prepared to defend your backyard for up to five months or share with your freinds and family!*
This package lasts up to 21 weeks*
Enough product to cover most yards (calculate your cover

 

here)**
Spray on grass, mulch, tree canopies and shrubs
Apply every 17-21 days for maximum results
Mama Nature's Mosquito Juice can only ship to U.S. addresses at this time.
*If there's a long period of wet weather, you may need to reapply Mama Nature's Mosquito Juice sooner.
**An 8-ounce bottle of Mama Nature's Mosquito Juice mixed with a gallon of water will provide enough product to cover 6,000–8,000 square feet.
If for any reason you aren't seeing the results you'd hoped for with our products, or have an issue with your order, we want to make it right. If we can't, we'll provide a refund to you with no hassle. Read our full guarantee.
Our magical Mosquito Juice is made out of things you can find at a health food store:
Garlic
Corn oil
Cedar oil
This garlic-based concentrate repels and eliminates biting pests like mosquitoes and ticks. The smell quickly fades, leaving you with a yard where you and your family can relax—swat-free.
Mama Nature's Mosquito Juice is safe for:
Kids
Pets
Pollinators
Aquatic life
Your kids and pets can play in the yard right after you spray. You don't have to keep off your lawn all day like when you use chemicals.